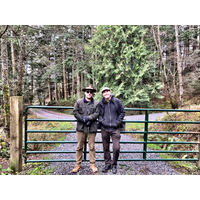 By: Sergio C. Muñoz, LAVA Board Member and SVP, Ventures at HOTB
People often talk about passion in business. I don't know if I truly feel passionate about the day-to-day of angel investing and writing term sheets and MSAs and SOWs but I know for sure that I do feel passionate about the idea of investing in a startup that is capable of disrupting the music industry.
A few months ago, I connected with a startup based in Orcas Island, Washington called 8Stem. Turned out that the startup was co-founded by Bruce Pavitt. Bruce (pictured, right) founded a startup many years ago, a record label named Sub Pop, with $50. He signed an enormous amount of independent recording artists and in the eighties, he purposely (and by accident) changed the world. He signed a band called Nirvana. He recorded their first album, Bleach, financed a tour, nurtured them in the press and then set up the recording of their second album. He contracted their producer, Butch Vig and then a lightning bolt struck. Butch and Nirvana's frontman, Kurt Cobain, shopped their record deal to Geffen Records and left Sub Pop. Bruce was paid an early termination fee and points on the next two albums. One of which would be Nevermind, an album that knocked Michael Jackson off the Billboard charts and sold over 100 million copies at +/- $17.99 per compact disc. These points would end up being worth multi millions of dollars. His company was valued at its peak at $30M. From $50 to $30M.
Bruce transplanted himself on Orcas Island and made friends with a local entrepreneur named Adam Farish. Together, they created 8Stem as both a personal and professional pursuit to take all that they have learned in business and in the music industry and create a disruption. The purpose of 8Stem is to educate music lovers on the science of recorded music. Once they understand the concept of Stems, as elements to create Songs, users can then go on to manipulate those Stems and create Remixes. Here's a quick tutorial.
Remix culture is estimated to be a multi billion dollar black market. 4/5ths of this market is on Google's YouTube and 1/5th of it is on Soundcloud. Bruce and Adam want to create the first Remix platform that allows the artist to stay within the legal parameters of the major music labels but also allows them to benefit financially from their artwork. One of their first successful collaborations was with Kim Thayil, guitarist for the multi platinum band, Soundgarden.
Bruce and I recently hosted an investor panel in Whistler. As a startup with $700k raised in Founder, Friends, Family and Angel funding and a functional MVP live on the iOS app store with thousands of users, 8Stem is currently raising the last leg of their angel round. Their debut will be at the Upstream Music Festival hosted by Paul Allen in Seattle. On Friday, May 12, Adam will host a panel with the first Remix artist to win a grammy, RAC. He will be following keynotes by Quincy Jones and Macklemore.
For more information on 8Stem, connect with me via LinkedIn. In attempting to support 8Stem, I am currently in negotiations with a community of independent artists in Latin America and the US to see if they can join the platform. My first collaboration will be with Chancha vía Circuito from Argentina. I am currently in the process of Remixing a track that Chancha has provided called Dionisio (Thunderbird 52 Remix). Stay tuned.
###
---