LAST MINUTE REGISTRATION AT ZOOM CLICK HERE
https://zoom.us/webinar/register/WN_mneLyvbcTui0uD0L9R4U7g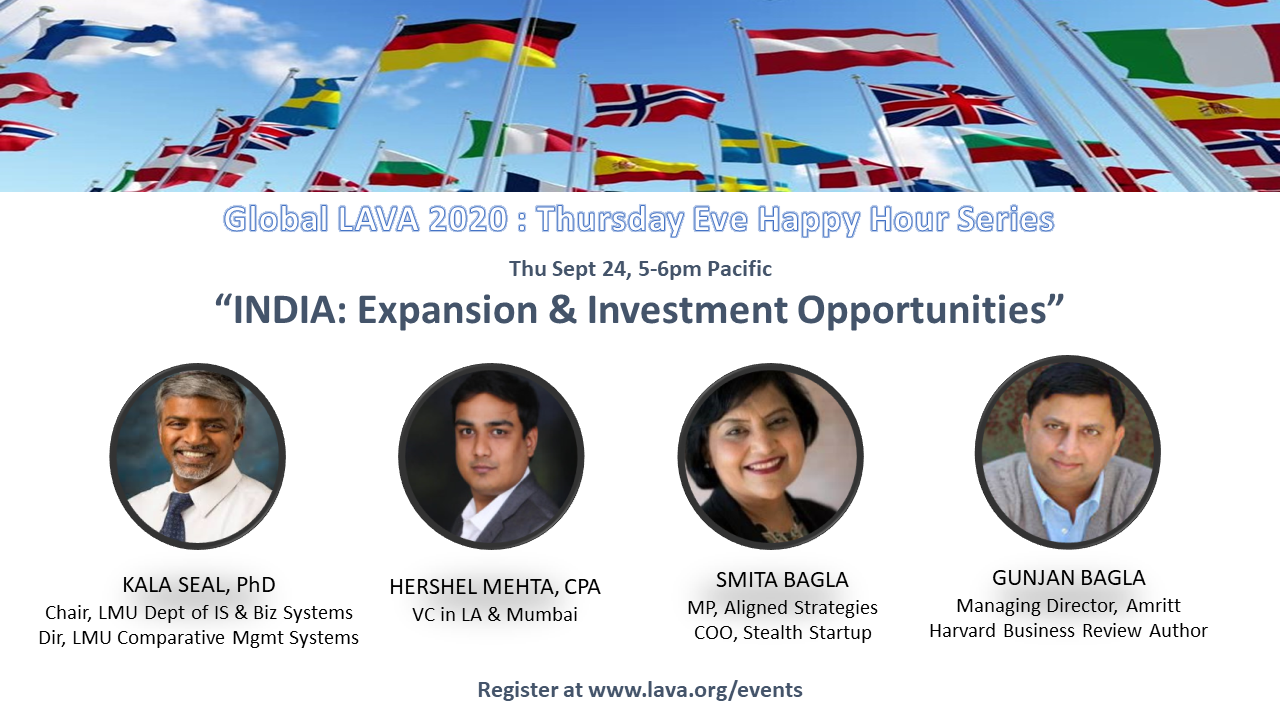 LAST MINUTE REGISTRATION AT ZOOM CLICK HERE
https://zoom.us/webinar/register/WN_mneLyvbcTui0uD0L9R4U7g
EVENT SPONSORS & SUPPORTERS:
The new Online Accelerator from The International Business Accelerator
LMU College of Business Administration
LAST MINUTE REGISTRATION AT ZOOM CLICK HERE
https://zoom.us/webinar/register/WN_mneLyvbcTui0uD0L9R4U7g
Join us for an expert panel on how US Startups, SMEs and Investors can expand and thrive in INDIA, the world's fastest growing market.
Our Los Angeles based panelists are:
KALA SEAL, PhD, (Moderator) - Chair, Department of Information Systems and Business Analytics and Director, Comparative Management Systems (CMS) Programs at Loyola Marymount University (LMU) in Silicon Beach.
SMITA BAGLA - Managing Partner at Aligned Strategies, COO at Stealth Startup, Past President of TIE SoCal, the preeminent organization of Indian business leaders.
GUNJAN BAGLA - India Expert, International Business Development Leader and Harvard Business Review author. Here is a sample of his HBR articles: Two Ways to Break Into India's Consumer Market.
HERSHEL MEHTA, CPA, VC, Angel and Founder. Hershel invests in startups from his offices in Los Angeles and Mumbai.
LAST MINUTE REGISTRATION AT ZOOM CLICK HERE