LATE REGISTRATION MOVED TO ZOOM
https://zoom.us/webinar/register/WN_dKrqfFCfTbyKccKQzUB8ZA
Audio, specifically voice and conversation, is having a moment. And audio interactivity has never been more relevant. From the dawn of the first social network, Radio, audio platforms have given individual talent, philosophers and advertisers a voice while connecting communities.
Whether broadcasting over the air or via 21st century streaming, emerging social audio networks and their latest permutations have leaped back to the future where Voice and AI rule the roost.
In this conversation with audio pioneers we'll learn about the equally lucrative future of data around voice. Where does social audio go from here? Who gets access to the microphone and how? What role do enabling tools and platforms like Nedl play in generating profits? And how are AI companies shaping what we hear and what is monetized for years to come?
One thing we know for sure: the future of audio has never been brighter.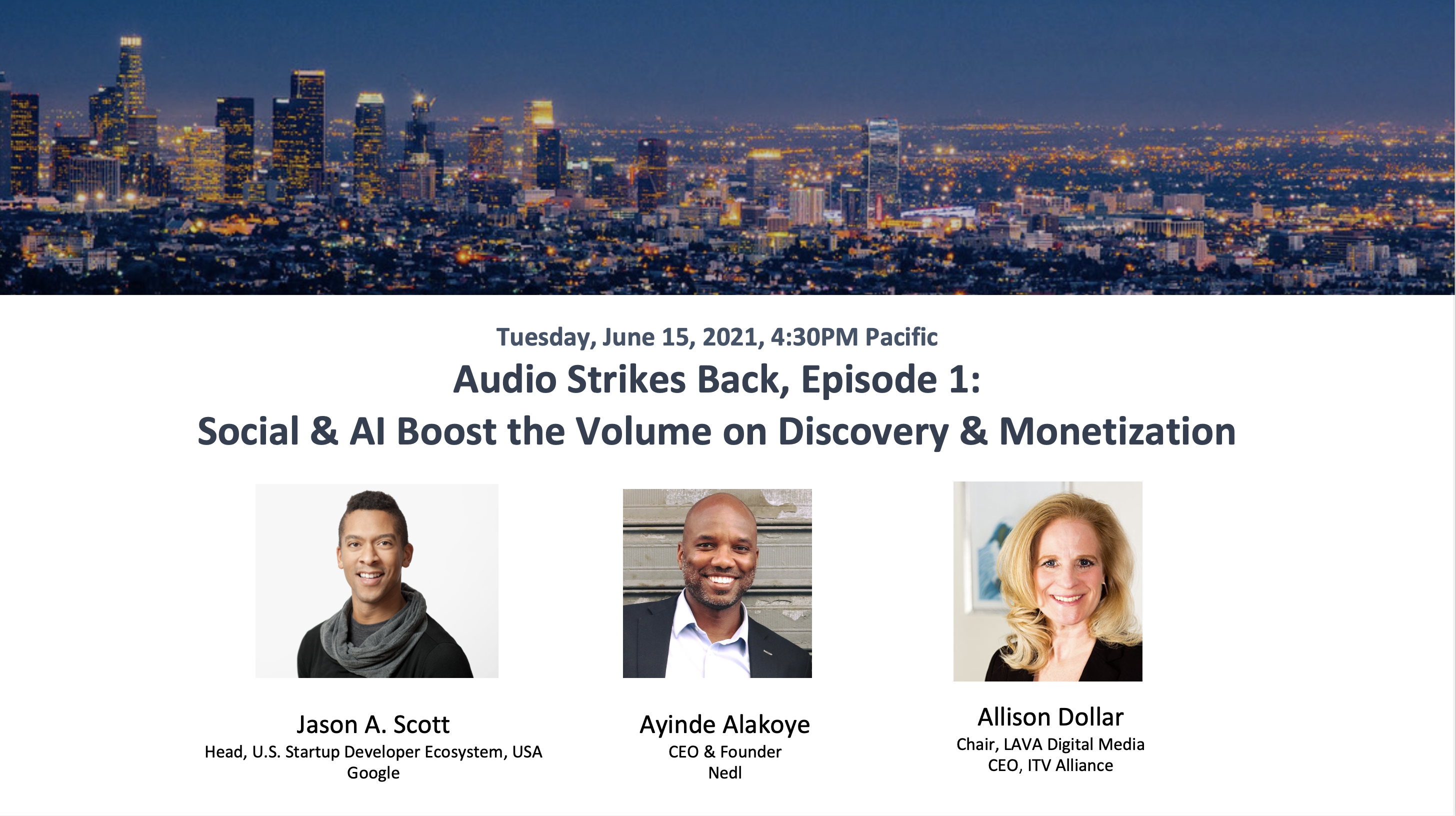 Jason Scott serves as Google's cross-functional US Startup Developer Ecosystem lead, managing Google's U.S.-based Accelerator programs and startup developer engagement strategy. While finishing an undergraduate degree at MIT, Jason got his professional start in management consulting at Arthur D. Little. After ADL, Jason moved from Boston to San Francisco to join the YC-backed startup - Homejoy - and subsequently went on to pursue an MBA from Stanford GSB. During and after GSB, Jason worked independently with a number of startups, eventually joining the investment team at Highland Capital Partners. Jason came to Google in early 2018 as a Global Startup Programs Manager under Google Cloud. He remains an active seed investor, startup advisor, and the founder of FactionSF-- a community for creatives, entrepreneurs, and early-stage investors.
Ayinde Alakoye is the Founder of nēdl, an app that gives everybody their own live call-in radio station which transcribes, amplifies and monetizes their words in real-time. nēdl (as in, 'the haystack') is Ayinde's third live audio streaming venture since 2003 when his company partnered with Clear Channel to produce the original version of the iheartradio app.
https://home.nedl.com/ https://republic.co/nedl
Marketplace
Even without Statista, we know that streaming has upended the music sector. The global music streaming market is valued at $20.9 billion in 2019 and expected to expand at a CAGR of 17.8% from 2020 to 2027. Podcasting also is hot, that global market valued at $9.28 billion in 2019 and expected to grow at a compound annual growth rate (CAGR) of 27.5% from 2020 to 2027.
Revenues for U.S. radio broadcasters grew $17.45B to $21.59B (23.7% increase) between 2005 – 2019. What does all of this portend for social audio, especially talk?
LATE REGISTRATION MOVED TO ZOOM