https://us06web.zoom.us/webinar/register/WN_6-zaAAaxT_q7rs5MejCYUA
Four years ago only SpaceX, Planet, and perhaps one other startup could claim to be part of a once exclusive club. Over the last 12 months however, we've seen more than 20 aerospace startups evolve from 'early-stage' to unicorns, through direct listings, special purpose acquisition companies (SPACs), or late stage private funding rounds. When reflecting back on the original vision for Starburst and its inception 10 years ago, the writing on the wall was clear: legacy industry was under attack and the startups were coming. Anticipating the disruption, we launched the first and still the only truly global aerospace accelerator to help founders realize their dreams while finding the rest of us better ways to travel and explore.
If we look back on this past year in more detail, and more specifically the most recent 3 months, valuations of aviation, space, and defense companies have skyrocketed; literally! SPACs have fueled companies in virtually every industry, and aerospace & defense has certainly been a significant player. In 2020, during a once in a hundred year pandemic, SPACs raised $83B on U.S. exchanges, accounting for approximately 46% of the total of all IPOs according to Bloomberg data. In 2021, 270 SPACs have already exceeded the 2020 total in raising more than $88B year-to-date. Since late 2019, space- and satellite-based companies and other companies in the A&D sector have seen considerable interest from SPACs. Similarly, SPACs have been looked at by many startup space- and satellite-based companies as attractive vehicles for access to the public equity markets after their original venture capital rounds of funding.
Join us for an interesting update on how Starburst supports early stage and growth companies, and a discussion of whether wave of considerable interest from SPACs will continue.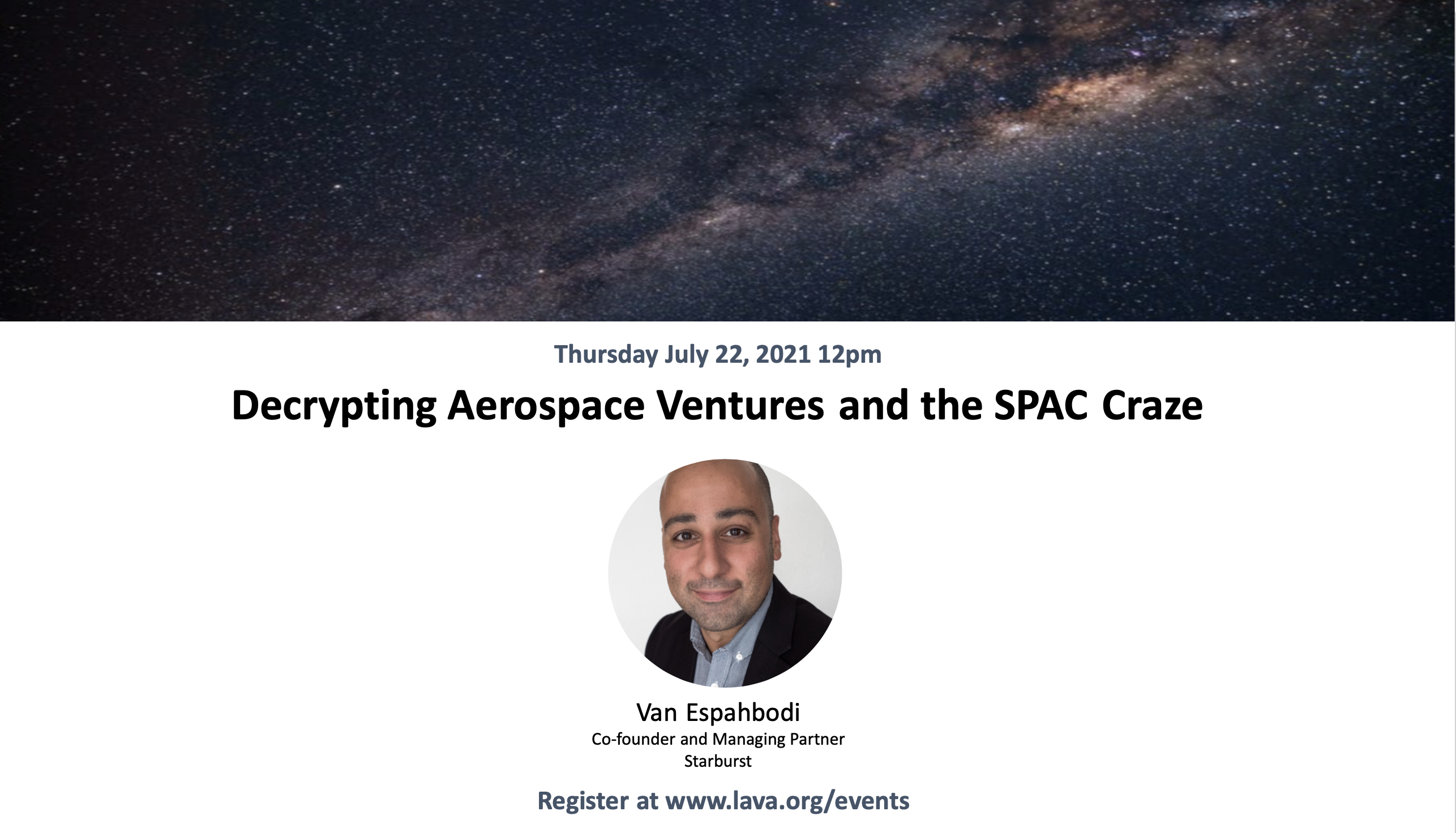 As Co-Founder and Managing Partner of Starburst, Van Espahbodi is championing today's aerospace renaissance, uniting early-stage technology innovators with private investment to modernize infrastructure in mobility, communications and intelligence. Van launched Starburst in the US in 2015, operating globally today with offices in Los Angeles, Paris, London, Munich, San Francisco, Seoul, Singapore, Tel Aviv, and Montreal. His team works alongside 600+ technology startups developing new aircraft, spacecraft, satellites, drones, sensors, autonomy, robotics and much more.
An entrepreneurial futurist, Van has over 18 years of experience in aerospace, identifying future trends, shaping product strategy and investment trade policies. Having worked in Government and Corporate strategy positions in both defense and commercial aviation markets, Van started his career as a congressional aide before joining Raytheon and later UK NATS, the British airspace operator. Following graduate studies at George Mason University, Van participated in executive programs at Thunderbird School of Management in AZ and Cranfield School of Management in the UK. He currently serves as a member of the Economic Development Advisory Council for the City of El Segundo and the Advisory Board of the MIT Enterprise Forum.
18 years' experience in corporate strategy, business development and public policy.
● Specialized in the A&D industry featuring breakthrough innovative technologies
● Former UK NATS lead for USA including FAA, NASA and USAF
● Former Raytheon International, business development and strategy
● Post Grad in International Commerce and Policy at George Mason in Arlington, VA
● MBA Extensions in Thunderbird, AZ and Cranfield, UK
https://us06web.zoom.us/webinar/register/WN_6-zaAAaxT_q7rs5MejCYUA