LAST MINUTE REGISTRATION MOVED TO ZOOM
https://zoom.us/webinar/register/WN_r2vuK3a6SQ-xfw7giX1vUA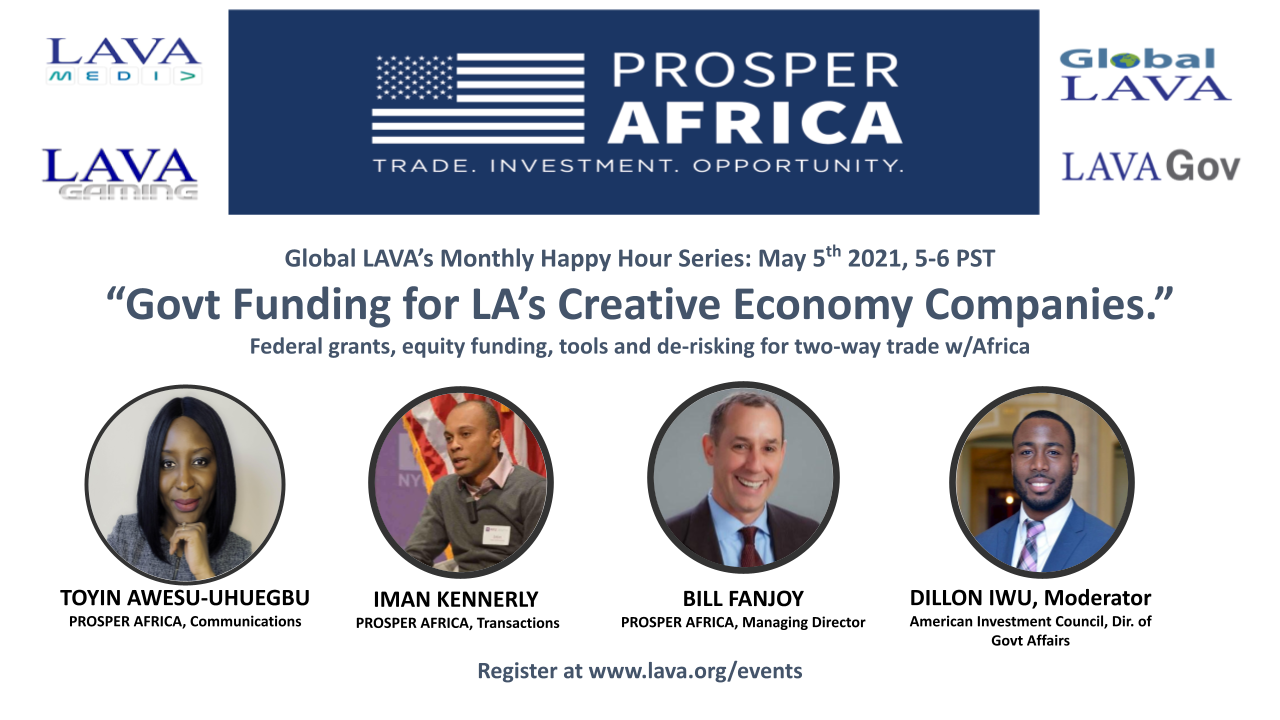 (Comp tix code in 'Event Details' section below)
Calling all ambitious contributors to the Creative Economy!
Learn from the leaders at the US' federal initiative PROSPER AFRICA on how to find, apply for and receive federal funding, tools, partnerships and de-risking investment deals in two-way African business.
SMART investors and founders know seven of the top ten fastest growing global markets are in Africa...and the creative economy drives that growth.
The SMARTEST investors and founders know how to leverage federal money and partnerships to enter and thrive in all seven markets simultaneously.
Toyin Awesu-Uhuegbu is the Communications Advisor and leads the strategy and execution of Prosper Africa objectives.
Iman Kennerly leads the deal flow. He'll explain the hundreds of millions of dollars flowing through Prosper Africa's DEAL ROOM every day.
Bill Fanjoy provides perspective from both continents and addresses questions about private sector engagement.
Dillon Iwu, leader of LAVA Gov, moderates the Prosper Africa team sharing his expertise as Director of of Government Affairs for the American Investment Council.
LAST MINUTE REGISTRATION MOVED TO ZOOM
https://zoom.us/webinar/register/WN_r2vuK3a6SQ-xfw7giX1vUA