https://us06web.zoom.us/j/87626429676
On June 9, 2021, gaming technology studio Mythical Games announced a $75M Series B financing round led by WestCap, bringing the total raise by the L.A.-based startup to $120M to date. The Series B attracted investment from Gary Vaynerchuk's VaynerFund as well as existing investors including Galaxy Digital, Javelin Venture Partners, and Struck Capital.
Creating gaming ecosystems around playable NFTs, the company is lead by former executives from Activision, Oculus, Electronic Arts (EA), and Zynga. Mythical is driving mass adoption of ownership in games, building on the growth of its first game, Blankos Block Party, and plans to expand to other gaming platforms by enabling game developers to create their own player-owned economies through in-game assets for content creators and brands.
Blankos Block Party is an open-world multiplayer game with a focus on player-designed levels, styled like a giant block party for collectible digital vinyl toys
Founded in 2018, Mythical Games is the latest Los Angeles gaming startup success story, and one of the biggest in 2021. LAVA Gaming is excited to have CEO John Linden and COO Jeff Poffenberger join us to discuss Mythical Games' success to date, their views on game development, the role NFT's play in their strategy, and the investment landscape for the gaming industry.
Connected Realm Entertainment is sponsoring this month's webinar for members and non-members.
https://us06web.zoom.us/j/87626429676
https://us06web.zoom.us/j/87626429676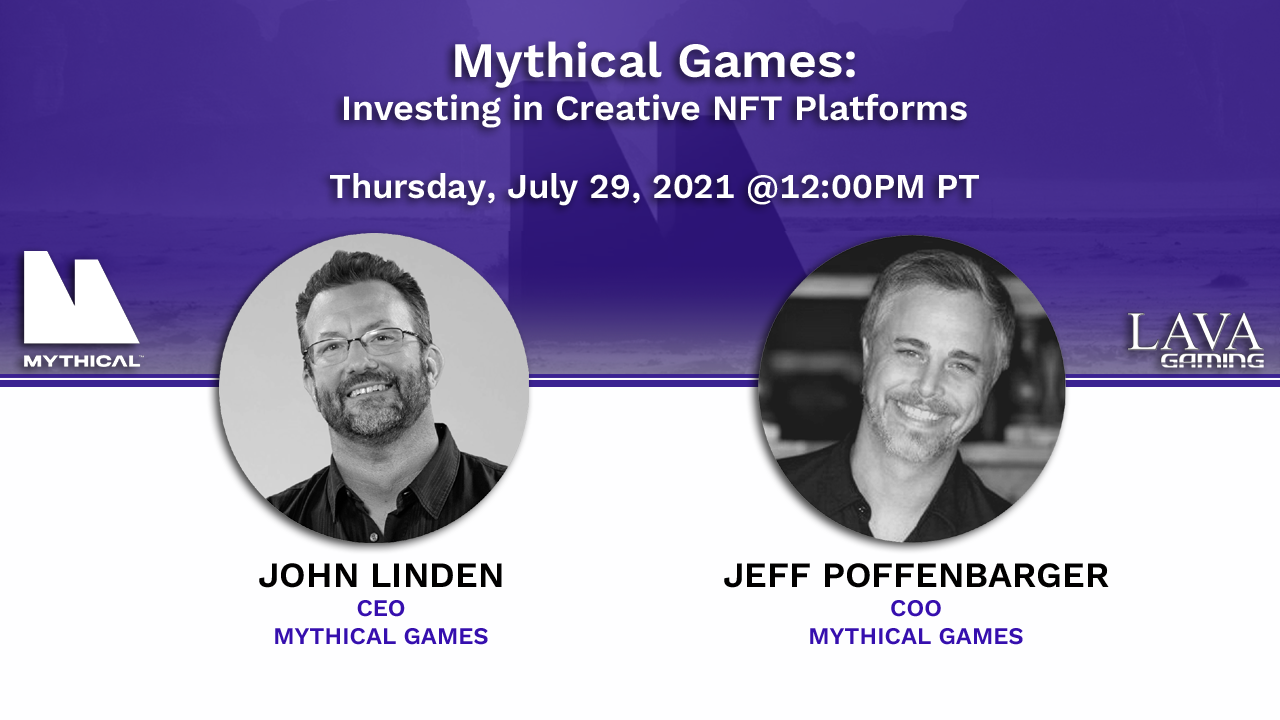 ABOUT THE PANELISTS
John Linden is the CEO of Mythical Games. Prior to Mythical, John was the President of Seismic Games (acquired by Niantic Labs), developer of Marvel Strike Force and Magic the Gathering: Valor's Reach. Prior to Seismic Games, he was a Studio Head at Activision Blizzard on the Call of Duty and Skylanders franchises. Before entering the gaming industry, John was the Co-Founder / CTO at Adknowledge and at OpenX, and built his own startups, Planet Alumni (acquired by Reunion.com) and Litmus Media (acquired by Think Partnership). John is passionate about video games, the future of NFTs and blockchain technologies, and bringing emerging technologies to the mass market.
Jeff Poffenbarger is the Chief Operating Officer at Mythical Games. As second-in-command at Mythical, Jeff is responsible for the day-to-day operations of the organization, across both its game and platform verticals. An experienced videogame development professional with strong leadership, analytic, and communication skills, Jeff joined Mythical from Oculus VR, where he was the studio head, responsible for directing and guiding the real-time experiences studio. Previously he was a senior executive producer at Toys for Bob across multiple Skylanders projects, as well as senior producer at Activision's Raven Software on games including X-Men Origins: Wolverine and Singularity.
Marc Patterson (Moderator) is the co-founder and CEO of Connected Realm Entertainment, a media publishing company powered by Emmy®-winning broadcast news professionals working with socially conscious organizations on branded content. An award-winning tech executive (mobile, VR, OTT), Marc co-chairs the Gaming community for the Los Angeles Venture Association, and hosts Esports 101, a weekly room on Clubhouse.
https://us06web.zoom.us/j/87626429676