Non-fungible tokens (NFT's) and digital assets have moved beyond buzzwords to becoming a disruptive monetization opportunity across many industries. Esports teams, gamers, and brands are making early moves which could set the stage for what, and how, NFT's are used in gaming. What are the revenue and valuation implications for game publishers, esports teams & leagues?
In this latest episode of the 2021 LAVA Gaming Webinar Series, legal, financial and gaming industry experts join LAVA Gaming to discuss where NFT's fit in the gaming industry, and who will profit or face pitfalls in this next phase of digital currency.
NOTE: The views, opinions, conclusions and/or other information expressed by the panelists in this public forum are for general information only, and are not intended to constitute legal, financial, investment, or tax advice. This webinar is intended to be educational and provide perspectives to help people make more informed decisions for themselves. Please contact appropriate financial and/or legal counsel local to your area regarding your specific facts, requirements, and circumstances.
This month's webinar is sponsored by Connected Realm Entertainment, and is free to all LAVA members and non-members.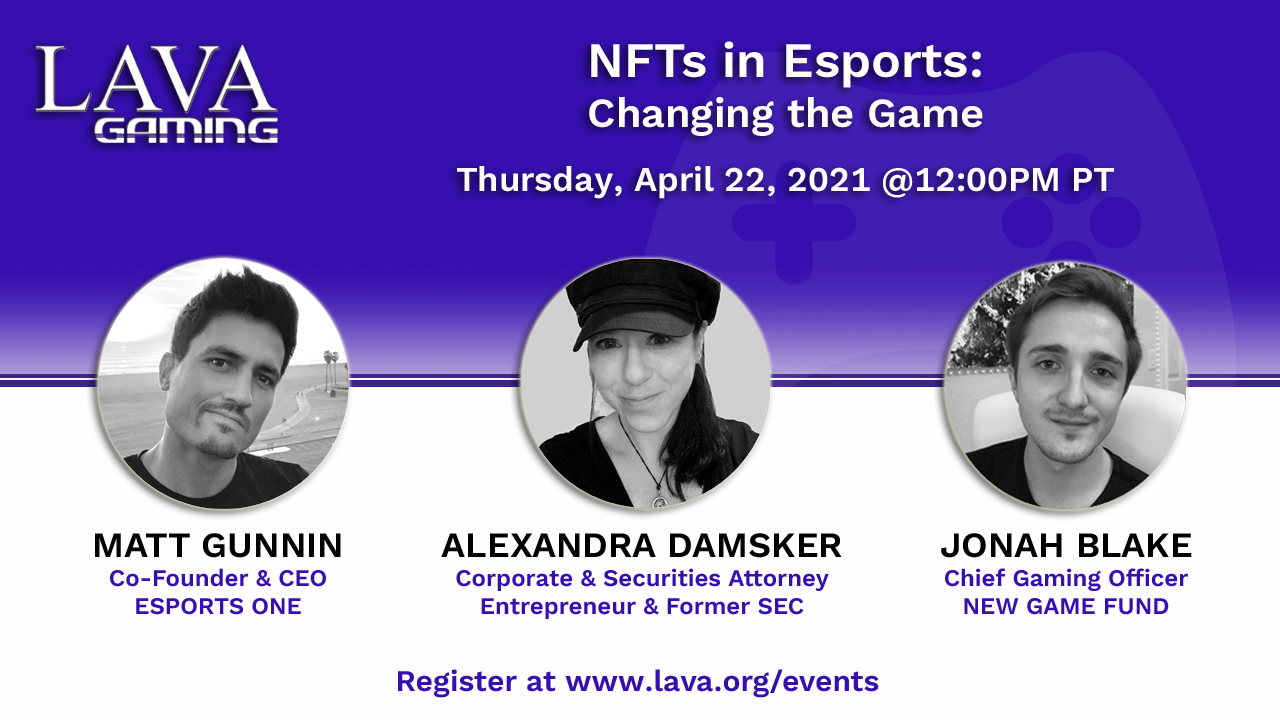 ABOUT THE PANELISTS
Matt Gunnin has been involved in esports for over a decade after launching Leaguepedia in 2010. After selling the company, Matt led the Product, Engineering, Content & Marketing teams at Curse Gaming, Azubu and, Unikrn. Seeing firsthand the lack of engaging fan experiences that were powered by real-time data and analytics, he founded Esports One in 2017. Using NFTs, computer vision, and historical + live data, he and his team are reinventing the fantasy esports experience for gamers and fans worldwide.
Alexandra Damsker is a corporate and securities attorney, formerly with the U.S. Securities and Exchange Commission and a major international firm. She is a 2x founder (with one exit), and has been involved in blockchain since 2016. Approached recently by a major publisher to author a book about best practices, she is also considered a subject matter expert in cryptocurrency, NFTs and general offerings. Alexandra currently serves legal, business, and strategic advisory roles with several companies and individuals.
Jonah Blake is the Chief Gaming Officer of the New Game Fund, a fund under development that addresses gaming, esports, and media. In his role, Jonah heads fund research and deal sourcing development. Prior to New Game Fund, Jonah was Vice President of Global Partnerships and Esports at Blake Media Ventures.
Marc Patterson (Moderator) is the co-founder and CEO of Connected Realm Entertainment, a media publishing company powered by Emmy®-winning broadcast news professionals working with socially conscious organisations on branded content. An award-winning tech executive (mobile, VR, OTT), Marc co-chairs the Gaming community for the Los Angeles Venture Association, and hosts Esports 101, a weekly room on Clubhouse.