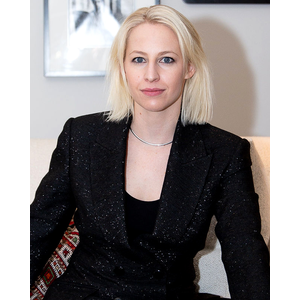 CEO/ Creative Director, Burnett New York
New york, New York, United States
Emily Burnett after tenure as Creative Director for Dennis Basso has gained international recognition within the luxury fashion industry for her infinitely feminine sensibility and cutting-edge innovation in Ready-To-Wear, eveningwear, and bridal. Attention to detail, craftsmanship, and effortless style characterize her signature aesthetic.
Emily launched her design career by moving to New York City in 2003 and attending Parsons School of Design. At Parsons she received high accommodations in fashion for being the finalist in an international competition and then becoming a global finalist gaining sponsorship for her senior thesis. After graduating from Parsons School of Design with a BFA in Fashion Design and a BA in Media Studies, Burnett launched her career as a designer at Ralph Lauren Black Label working under Whitney Fairchild.
Later, she made a move to New York's premier luxury design house, Dennis Basso and at age 23, she became the Creative Director. Her debut collection for the Spring 2010 runway created a powerful shift in the brand featuring an ultra feminine, luxe line up of cocktail and eveningwear. This became her signature touch on the label and generated hype amongst top stylists Burnett has worked with like Patti Wilson, Lori Goldstein, Kate Young, Anya Zirourova, and Gillian Wilkins as well as supermodels, Naomi Campbell, Coco Rocha, Chanel Iman, Hilary Rhoda, Flaviana Matata, and Grace Mahary.
In 2018, Burnett exited Basso after designing over 40 collections to launch her eponymous luxury line with Co-Founder Sterling McDavid. Co-Founded by women, Burnett New York provides boldly feminine luxury fashion with a mission to empower and inspire all women. Burnett has participated in New York Fashion Week and has entered into top retailers such as Neiman Marcus, Saks Fifth Avenue, Net-A-Porter, and Moda Operandi. Burnett has partnered with UNICEF's Girls Education Program as well as numerous other foundations to support women's initiatives worldwide. As the Founder, CEO, and Creative Director, Emily makes it her mission to empower women through creating tailored power dressing silhouettes to supporting women's initiatives that showcase and highlight diversity and inclusion on the runway and in every aspect of the fashion industry.
"Burnett New York is about so much more than fashion or personal style. I want women to feel encouraged to be confident in themselves, their talents, and what they bring to the table when wearing these pieces" – CEO/ Creative Director, Emily Burnett